Coping With Stress and COVID-19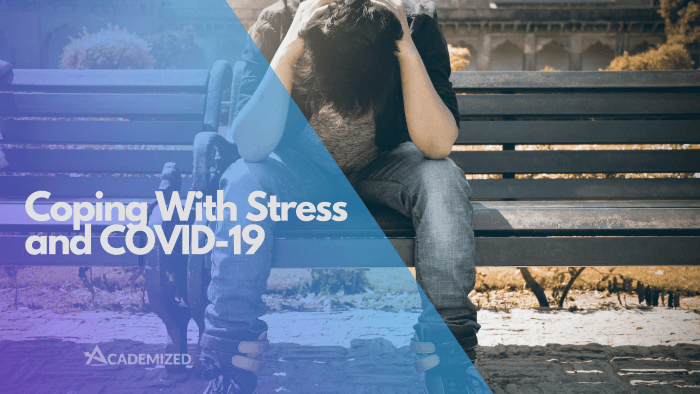 Its clear that COVID-19 has had a huge impact on everyone's lives. With the different changes everyone has had to adopt in their daily lives, and an increased awareness of how illness spreads, it's easy to see that COVID-19 has increased stress in your daily life drastically. Here's how to cope with stress that's related to the virus, and still stay safe.
The Effects Of Stress
Everyone will be under the effects of stress in their daily lives, at one point or another. That could be because of your work or home life, or any number of factors. Stress is normal in small amounts in your life, but if you're subjected to stress for long periods of time, then you'll find that it can start to have long term effects.
There are several issues that stress can cause for you, including the following:
A change in your appetite, desires, energy, and interests
Increased use of substances, including tobacco
Difficulty in concentrating
Increase in mental health issues
Worsening of any chronic health issues
Physical health symptoms, including headaches, stomach problems, and skin rashes
Difficulty in getting to sleep and staying asleep
Struggles with feelings like sadness, anger, and frustration
As you can see, if you're coping with stress for too long, there are a multitude of issues that it can have on your physical and mental health. That's why it's so important to manage your stress levels to avoid these issues.
Stress And COVID-19
With the advent of COVID-19, there has been a severe increase in the amount of stress people deal with daily. As well as all the regular stresses of every day life, there are additional stresses that come about as a result of the virus.
For many people, they will be dealing with stress as they worry about potentially catching the virus, and everything that that entails. With reports of long COVID and deaths from COVID in the news, there's no doubt that getting the illness is worrying. In such challenging times, students often face additional academic pressures and may find it overwhelming to keep up with their coursework. As they navigate through these concerns, seeking professional assistance with their academic assignments can provide much-needed support. Students may choose to reach out to a reliable writing service and "write my paper for me" request enabling them to focus on their well-being while ensuring the completion of their assignments to the best of their abilities.
There's the stress of the repercussions of COVID-19 too. If you were to get the illness, for example, there would be stress around calling out of work and potentially losing earnings. There's also stress around how you can get your daily necessities when you're having to self isolate at home. If you have children or other dependents, then you'll have worries about them getting COVID-19 too, and how you'll care for them should you fall ill.
On top of all of these worries, the effects of self isolation increase stress too. While it's vital to help stop the spread of COVID-19, having to be alone while you're dealing with the virus is isolating and anxiety inducing.
These are just a few ways that stress has spiked since the advent of COVID-19. Because of this, you'll need to be extra vigilant to keep stress levels down, and take good care of yourself. The good news is that despite everything mentioned above, it can be done.
Managing Stress
There are lots of different things you can do to manage your stress levels in the pandemic. Here are a few ideas that can help you:
Stay In Touch: One of the most important things you can do to manage stress is to stay in touch with your loved ones. If you're self isolating, it can feel lonely but modern technology makes it a lot easier now. You can call or message loved ones, or chat through video calling. While a lot of it won't be the same as being with them in person, you'll still have that contact when you need it the most.
Connect With Your Community: As well as your loved ones, you can keep stress down by connecting with your wider community. If you are part of a faith, then there will be ways you can stay in touch with them during this time. For example, many churches offer services over video call, so you can stay in touch. There will often be community outreach services too in your local area, so look out for these. Additionally, when it comes to managing your academic responsibilities, if you find yourself overwhelmed with assignments or in need of support, you can consider reaching out to a professional essay writer. They can provide expert assistance, ensuring your essays are well-crafted and delivered on time while alleviating some of the stress that comes with academic work.
Take A Break From The News: It feels as though you have to pay close attention to the news, as you want to stay updated on the situation around COVID-19. However, it's very easy to stay glued to the TV or your phone and raise your stress levels. It's a good idea to place limits on how often you watch the news, and then take a break from screens every so often.
Make Time For The Things You Enjoy: If you're always focusing on COVID-19, it's very easy to become stressed about it. Instead, you can ensure that you make time for the things you enjoy. These can be any kind of hobby, from taking up an activity like knitting to just enjoying a movie on TV in the evenings.
Care For Your Physical Health: Stress affects you physically as well as mentally, so you'll need to ensure you're taking good care of your body. You can do this in several ways, such as meditation, exercise, eating healthily, getting lots of sleep, and so on.
Coping With Mental Health Crises
While you're doing your best to manage stress at the moment, you may find that it's overwhelming. This can get to the point of creating a mental health crisis. In some cases, it could lead to you contemplating self harm or suicide. While it's frightening to have these thoughts, suicide is preventable and there's help available.
If you are in crisis, then you can call 911 right away for help. There are other hotlines too, such as the National Suicide Prevention Lifeline, who you can talk to.
While stress feels like a given in the time of COVID-19, the good news is that there are ways you can handle it. Staying in touch with your community, and taking the time to take care of yourself, will help a lot in the long run. If you need more help when things get too much, there are helplines available to you as well.